About Tumble Buggy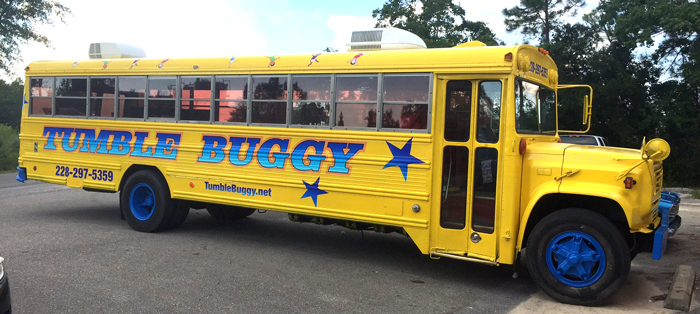 Tumble Buggy
is a specialized gymnastic program developed for beginning gymnasts. Our goal is to bring fitness to your children for their proper physical and motor development.
Tumble Buggy is brought to your child's school on wheels (we do not transport your children). A full-sized school bus has been refurbished in a safe, fun gymnasium in which the children have their classes. Our program offers every area (plus more) of gymnastics in mini form. The bus is equipped with bars, beam, vault, trampoline, ropes, rings, climbing apparatus and more.
With today's busy lifestyle, we have found that parents aren't always able to find the time to do all they want for their children. By bringing Tumble Buggy to your school, we give each child the opportunity to participate in an excellent fitness program which doesn't infringe on the family's valuable private evening hours.
Tumble Buggy is also available to you for birthdays and special event parties! Contact us today for details!
Where you can find Tumble Buggy
Parents Choice Learning Center
Twin Oaks Child Development center
Kinderlearn Child Development
Future Scholars Ocean Springs
The Mustard Seed
Good Shepard Christian Academy
Little Feet Learning Center
Jack N Jill Of Vancleave
Landry's Land Of Learning
Ovation Learning Center
Sonshine Inn
Noah's Ark Child Care Center
Gulfport Academy
Learning Depot
Future Scholars Learning Center
Nugent CDC
Lighthouse Learning Center
Toddler Town Educational Center
Kinderlearn Child Development Center /D'Iberville
Future Scholars Washington Center
Catipillar Development Center Biloxi and Woolmarket locations
Little People's Christian Academy INC.
Small Blessings Preschool
Discovery Child Care Center
A Place to Grow
Miss Mae's Pre-K
Cribs and Crayons